The Rise of Fitness and Wellness
These days, mental health is a discourse of empowerment. We are put in a situation when not only we lose our freedom, but we are faced with these uncertainties and challenges. In times of stress, anxiety, and tensions, people are looking to deal with themselves through knowledge-based experts. And brands started to realize that their audiences are in need. Therefore brands started to figure out a way of creating experiences to help them. And how they do it is translated into immersive campaigns. 
For instance, Free People as a women's clothing brand started giving out live stream meditation and yoga sessions.

Airbnb suffers from a decrease in bookings. This vacation rental marketplace company faced a huge dip in bookings but decided to provide various fun virtual experiences to keep people active and entertained while at home.

Lazada, an international e-commerce company had motivated its online community to not only shop but also stay healthy through a Tik Tok Challenge. The #GetFitWithLazada campaign was led by an Indonesian based fitness influencer, Jennifer Bachdim.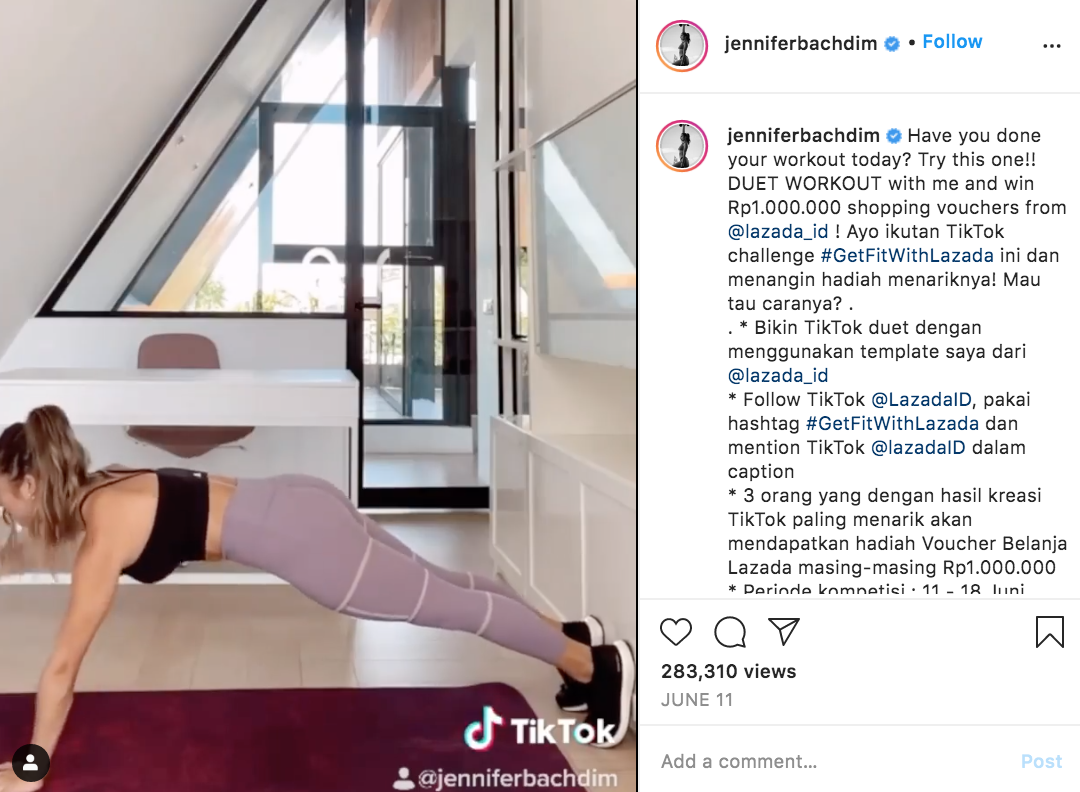 Fitness brands should be open to collaborating with other brands because people are actually in the mind of doing these experiences right now. According to a recent study by Mind Body, during COVID-19, there's a rise within the fitness and wellness industry.
Pre-recorded fitness classes grow from 17% to 73%.

Live stream classes have gone up from 7% to 85%.

Workouts accelerated, 60% of people work out 5 times a week.

46% of people are likely to continue doing workout online

40% of people are likely to try new studios after the pandemic
At this moment, brands definitely need to think about your key messaging. Key messaging is all about your audience's thoughts and feelings right now. You'd be surprised at how this rise has tapped into the way brands are communicating. People want to be aware of their actions. Brands are starting to be more concerned for their audience, "Are you okay?", "What can we do to make you feel better?" And another thing is, the busier the market gets, the harder it is to resonate with your market in a more meaningful way.
How can brands stand out while communicating their 'wellness values'? 
Through your brand communication.
There are different ways to talk about wellness, but the way you communicate matters. Define a style that matches your personality. If not, your brand is going to come off inconsistent. Take this hotel brand in Japan, Miru Collection, as an example. All visuals and language amplify their brand ethos: each property showcases their individual spirit while sharing a purpose that approaches travel in a more holistic way.
In order for your messaging to stand out, clarify your brand personality, brand values, brand tone, and voice. And be confident about it! 
Now if you're wondering how to start, we can help you shape your brand communication or take it to the next level through a hands-on one day workshop. Along with your core team members, we'll brainstorm and find the best way possible to communicate your brand in all digital channels. At the end of the workshop, we'll also produce an actionable brand communication guideline along with an improved content strategy that you can apply right away! 
To book us, click here.
You can watch the live session here.