How to Effectively Run Facebook's Hotel Ad's Campaign
We've already established the importance of Facebook's Hotel ads and how it can be useful for Hotels in our previous blog . In this post, we'll share with you what you need to run hotel ads and how to manage them throughout different stages of a consumer's journey. 
But before we get to the steps, below are a few things an online business should have. 
A Facebook page

(obviously)

A Facebook ad account

– this account lets you create, edit, and run ads on Facebook for your page. 

           

                Image:  Facebook Ads Manager page

A Facebook catalog – a container that holds information about the products in your inventory. In this case, it would be information about your hotel rooms. Catalogs are complicated, but they can also be done with the help of a developer of your site.

                                         Image Above: Facebook's Catalog Manager

 

A Facebook pixel installed on your website – code on your site that collects data to help you track conversions and other actions from Facebook ads. Pixels can be added to your website manually or with the help of a Developer or expert Facebook marketer.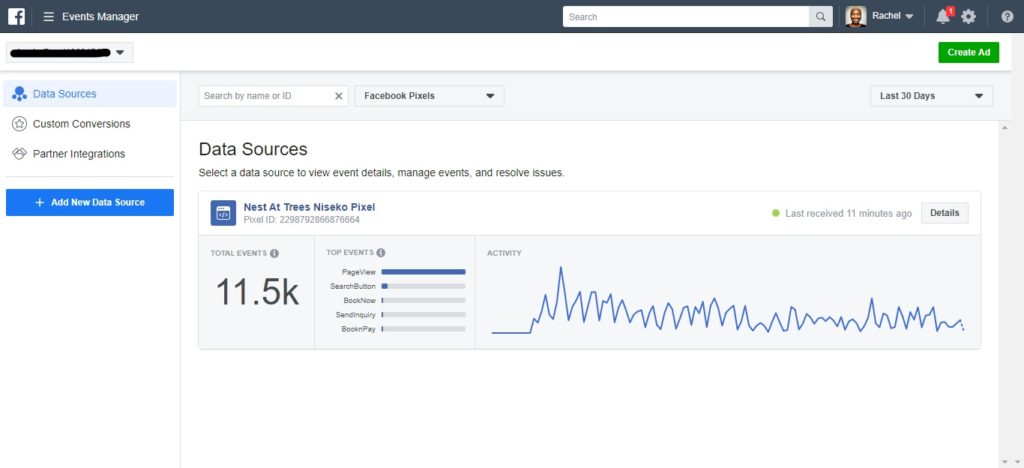 Image Above: Facebook Events Manager- where a pixel is recording live events.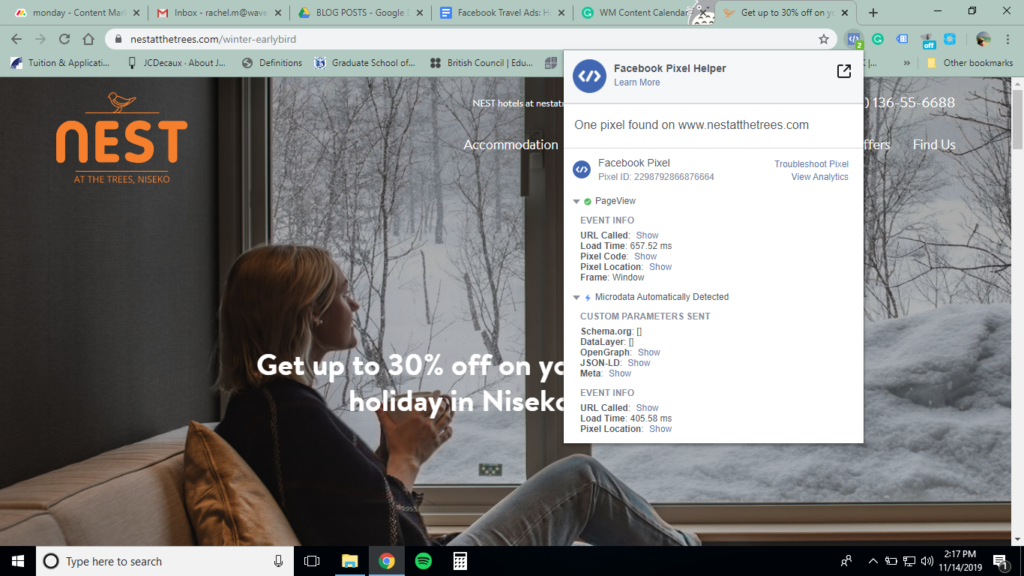 Image Above: Active Pixel on a website (tip: Download facebook pixel helper to detect and see if a pixel is working on your website or to see other website's pixels are active). 
So now that you know what you need, here's how you can create different campaigns using hotel ad features throughout various stages of a consumer's journey. 
Stage 1: Intention to Travel
In this stage, Facebook's Trip Consideration tool allows you to reach out to a broad audience who have the intention to travel to your specific destination. The tool uses machine-learning to prioritize those who are most likely to travel; or those who are planning on a trip to a particular destination. The good thing about this tool is that it doesn't require your catalog to be set up on Facebook ads. You can run brand awareness or one-time sales promo campaigns to get people to convert or recall your brand. Take a look below the different types of campaigns and the KPI's you will have to measure for this stage of the journey. 
Brand Awareness Campaign

– Reach people more likely to pay attention to your ads and increase awareness towards your brand.

Main KPI's: Impressions and Ad Recall Lift
Video Views Campaign – Promoting videos of your products or hotel promos that will increase awareness. Main KPI: ThruPlays (views that are least 15 seconds)
Website Traffic – Sending users to the landing page of your promo.  Main KPI: Landing Pageviews
Stage 2: Planning and Booking a Room
In this stage, you can use Facebook's Hotel Ad's Prospecting tool, which allows you to promote relevant hotel inventory to the audience who have an intent to travel towards a specific destination in mind. The ad creatives are based on the hotel inventory, so this means in this stage, your hotel catalog must be already set up on Facebook. There is only one specific campaign you can run at this stage, and that's a Catalog Sales campaign. The campaign uses a carousel collection, and the main KPI's are landing page views or website conversions. The benefits of this tool are 
You only have to set up your campaign once to promote all of your inventory, without having to create each ad separately. 

Your campaigns are automatically set to reach people with the right inventory at the right time, based on their hotel and destination intent, their likelihood to take action, and your inventory matches.

You can reach people on multiple devices. 
Stage 3: Convert Past Website Visitors
In this stage, we are retargeting past visitors from your website who've visited specific pages from your site using the hotel ads retargeting tool. The ads that we'll be retargeting them with are catalog ads from your inventory. Based on how you installed your website pixel, you can also optimize the ads to retarget consumers who are different stages of the funnel, such as "initiate checkout," "add to cart," etc. 
         Image Above: Example of Custom Conversions from Facebook Pixel
The benefits of this tool resemble the Hotel Ads prospecting tool. You only have to set up the campaign once and won't need to create specific ads for specific inventory. The ads will reach the right people at the right time based on the actions they've taken on the website. And finally, you can reach people across different devices. 
Facebook has a goldmine of data
With their capabilities of targeting new or existing audiences at different stages of their journey, one can say that Facebook is a goldmine of data. And with the catalog feature, you can automatically create ads that are relevant for your specific audience without the need of the designer. Facebook ads are effective and can help you expand any travel or hotel business to new audiences.  
To summarize the stages below is an infographic for you to refer to when starting a Facebook Hotel Ad's campaign.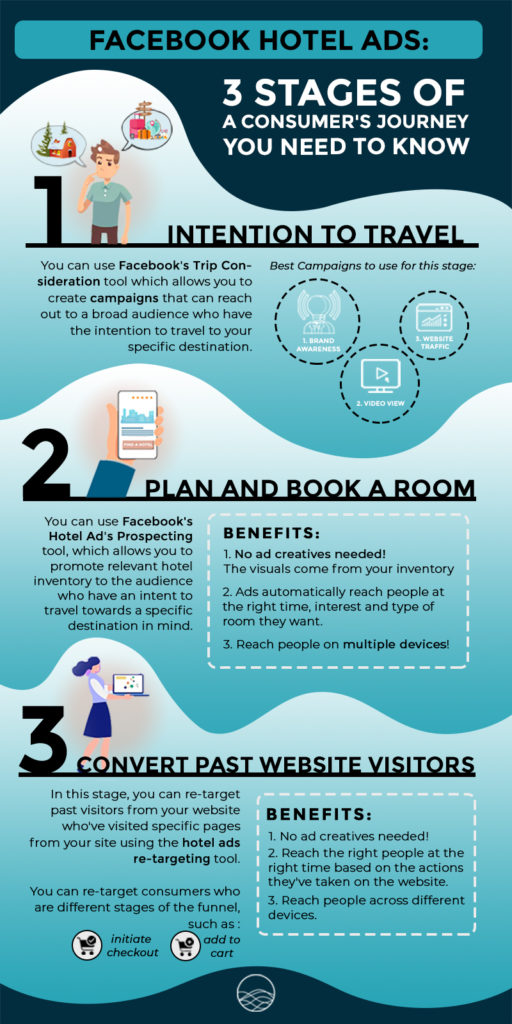 If you are interested to know more about what Facebook Hotel Ads can do for your hotel brand, email our team at contact@wavemakers.co.